Secretariat's work
Sixth ordinary summit of the G5 Sahel and Sahel Alliance General Assembly
10 June 2020
The sixth ordinary summit of the G5 Sahel was held on 25 February 2020 in Nouakchott, in the presence of G5 Heads of State. The Secretariat of the G5 Sahel, renamed the "executive secretariat", reaffirmed its commitment to consolidating cooperation in the fight against terrorism and continuing joint military efforts.
The first Sahel Alliance General Assembly was held in parallel with the summit and was chaired by the French Minister for Europe and Foreign Affairs, Jean-Yves Le Drian. It was an opportunity to mobilize the international community around joint commitments for development in the Sahel region.
The Sahel Alliance committed to taking action first and foremost in the most fragile areas of the Sahel region, to working towards better coordination between the security and development pillars and to enhancing the means of intervention to increase the speed of response to help civilians in the Sahel.
The General Assembly of the Sahel Alliance was an opportunity for the partners mobilized for the Sahel region to adopt the principle of an integrated territorial approach to coordinate, ensure coherence and concentrate efforts in priority areas. This approach helps to define an operational strategy in these areas, in partnership with national and international actors and based on the reality on the ground. It requires efforts in bringing together military, security, humanitarian and development actors.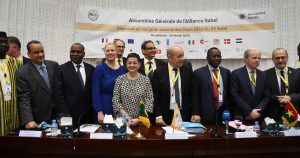 Sahel Alliance General Assembly © Alliance Sahel / Aude Rossignol
Siaka Dembélé, Chair of the Alliance of Local Authority Associations of G5 Sahel Countries, Ismail Ould Cheikh Ahmed, Foreign Minister of Mauritania, Alpha Barry, Foreign Minister of Burkina Faso, Jutta Urpilainen, European Commissioner for International Partnerships; (back row) Jean-Marc Gravellini, Head of the Alliance Coordination Unit, Arancha González Laya, Foreign Minister of Spain, Abdel Aziz Ould Dahi, Finance Minister of Mauritania, Jean-Yves Le Drian, Foreign Minister of France, Lassané Kaboré, Finance Minister of Burkina Faso, Axel von Trotsenburg, World Bank Managing Director of Operations, Rémy Rioux, Chief Executive Officer of the Agence Française de Développement